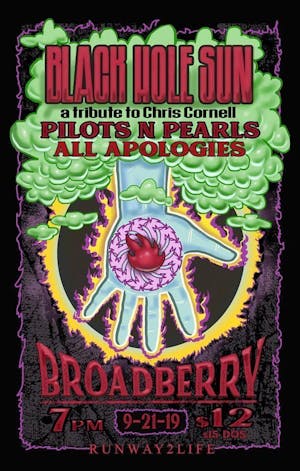 Black Hole Sun
The Broadberry
Richmond
,
VA
$12.00 - $15.00
Tickets At The Door
.
Black Hole Sun
Join us for an an amazing evening of grunge tribute with All Apologies, Pilots N' Pearls and Black Hole Sun. We will be jamming all evening with the music of Nirvana, Pearl Jam, Stone Temple Pilots, Soundgarden, Temple of the Dog and Audioslave.
We will also be joined with Runway 2 Life for suicide prevention month awareness and we will be auctioning off items during the evening to help raise funds for an amazing cause!
Tickets are $12 in advance and $15 day of show!!
With support from Pilots n' Pearls: Virginia's premiere Pearl Jam and Stone Temple Pilots tribute band and All Apologies, a Nirvana/grunge cover band.
Venue Information:
Parking is available in side lot (by Exxon)

No Smoking/Vaping permitted anywhere inside venue

Bags/purses will be checked at the door.

Must have ID for entry

If you do not have access to a printer, we can scan ticket from your cell phone. Be sure to have your brightness turned all the way up at the door.

Children under 3 years old are Free.

Kitchen is open during all hours of operation.

Appropriate clothing required at all times (tops and bottoms covered).

Venue Information:
The Broadberry
2729 W Broad St
Richmond, VA, 23220