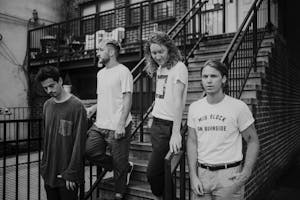 flor
Winnetka Bowling League, Castle Og
The Broadberry
Richnmond
,
VA
$18.00
Tickets At The Door
.

flor
Confidence comes from inside. We internally design our own foundations for self-assurance. On their second full-length album ley lines [Fueled By Ramen], flor draw fearlessness from the strength of their union as friends and bandmates, a D.I.Y. journey, and shared willingness to bring bold pop ambition to alternative music. With hundreds of millions of streams, sold out shows around the world, and critical praise to their name by 2019, the Oregon-bred and Los Angeles-based quartet—Zach Grace [vocals, guitar], Dylan Bauld [bass, production], McKinley Kitts [guitar], and Kyle Hill [drums]—anchor twelve undeniable anthems inside of a newfound confidence.
"It was a natural progression for us," states Dylan. "We initially made a vulnerable introduction in terms of the songs and sound. We really built on that by giving everyone our story now in a bigger sound."
"The melody and the story are really important," agrees Zach. "A lot of the songs are about believing in yourself. Figure out who you are, hold onto it, and place faith in it wholeheartedly. It's really what we went through over the past couple of years."
The group certainly came a long way in that time…
Originally hailing from Hood River, OR ["an outdoor sports town" of 7,167, according to the last census], flor relocated to Los Angeles in 2016 to write and record their debut album, come out. you're hiding, in producer Dylan's bedroom studio. Within a year, it quietly caught fire as the band jumped in a van and went on to log shows alongside everyone from Paramore and Hayley Kiyoko to Walk The Moon and Andrew McMahon and The Wilderness. Along the way, numerous songs deepened the band's connection to fans by speaking directly to identifiable human emotions. "Hold On" documents the excitement of young love as "Back Again" details the moment of saying goodbye and "Warm Blood" discusses infatuation and the awe incited by a significant other. Acclaim came from the likes of Ones To Watch, Earmilk, Alternative Press, and more as they also claimed real estate on coveted playlists such as Spotify's "New Music Friday," Apple Music's "Today In Music," and Amazon Music's "Brand New Music."
In early 2018, the boys began kicking around initial ideas for what would eventually become ley lines. Working out of Dylan's North Hollywood home studio, the four musicians played face-to-face. With Zach and Dylan co-producing, the group leveraged the next year to allow the songs to grow and develop without time constraints. They also collectively decided to keep everything in-house. Rather than invite outside collaborators or decamp to a famous studio, they retained the formula that drove come out. you're hiding, trusting themselves and their process.
"The last album was written, and then we learned how to play it live," McKinley explains. "This time, we took what flor was, incorporated input from everyone, and really opened things up."
"After years of touring, we recognize a certain chemistry between the four of us that we didn't fully explore on the debut," recalls Kyle. "It was important for us to bring those live elements into the studio for ley lines."
As the music took shape, the concept also came into focus. Falling down a rabbit hole of YouTube comments in January 2018, Zach pondered his own self-worth. Partially inspired by a concept in the Patrick Rothfuss fantasy series The Name of the Wind, he recognized the significance of ley lines.
"There's a theory that important places of power like Stonehenge or the Pyramids of Giza are connected by invisible lines," the frontman elaborates. "As a parallel, I needed to find my own anchor points for belief and purpose. I realized you can build those roads yourself. Friends, family, and the band are my anchors. The music comes out of the ley lines."
flor heralded the album by uncovering the gliding "slow motion" and ebullient "dancing around"—millions of streams in a few months' time—before unveiling "ley lines." Originally conceived during a tour soundcheck, the title track hinges on a steady beat and fluid bass groove punctuated by sweeping acoustic guitar and lush analog synthesizers.
Above these layers, Zach's dynamic delivery stretches from delicate verses into an empowering and encouraging hook, "Like ley lines, find meaning to take hold. It all goes this way. On empty. We will what we make whole."
The follow-up single "money" swings from a keyboard groan into an emotionally charged echoing chant over dissonant guitar.
"Every time I open Twitter, it seems like there's another tragedy," sighs Zach. "'money' is about the horrible cycle of violence and despair fueled by greed. So many people are pulling disgusting shit in the name of money."
Meanwhile, "aiming low" pairs vital falsetto to sparse percussion and a skittering riff. Lyrically, it addresses a central theme.
"Lots of opinions will just aim low without ever really giving something a chance," Zach continues. "Thinking of that, I built up these scenarios in my head, facing insecurity. The song's really honest and sort of cathartic."
In the end, ley lines emanate a strength meant to be shared by flor.
"It'd be great to give listeners comfort and maybe a little confidence," concludes McKinley. "We might not have all of the solutions, but the record can perhaps be a pit stop on where you need to end up."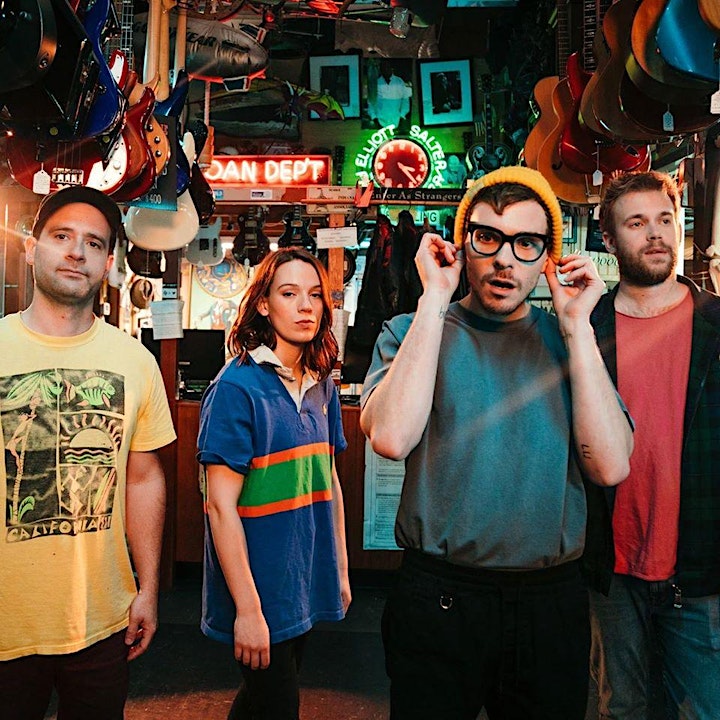 Winnetka Bowling League
Winnetka Bowling League's debut single "On The 5," a love letter to the baked asphalt of a California freeway, perfectly encapsulated the melancholy of a past romance conducted under blistering sunshine. The track, released at the tail end of the summer, was an immediate hit at college radio where it spent three weeks in the top 5, was playlisted on Sirius XM's' AltNation, and has received over 1,000,000 streams to date. Not bad for the first release from a newly formed band of musical compadres named for their singer's bowling league in the San Fernando Valley. Definitely the first time you've heard "non fat" rhymed with "Prozac," "Kombucha," their new track, is another end-of-a-relationship anthem. Winnetka Bowling League's penchant for cars and freeways continues, but instead of "On The 5"s "'92 Subaru," the protagonist of "Kombucha" is ending a relationship before hitting the road in "my Honda on the 101." Directed by Zach Sekuler, the video takes place in the Elliott Salter Pawn Shop in West Hollywood.
Venue Information:
Parking is available in side lot (by Exxon)

No Smoking/Vaping permitted anywhere inside venue

Bags/purses will be checked at the door.

Must have ID for entry

If you do not have access to a printer, we can scan ticket from your cell phone. Be sure to have your brightness turned all the way up at the door.

Children under 3 years old are Free.

Kitchen is open during all hours of operation.

Appropriate clothing required at all times (tops and bottoms covered).

Venue Information:
The Broadberry
2729 West Broad Street
Richnmond , VA