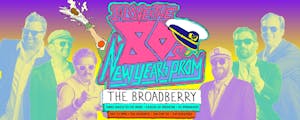 Broadberry Entertainment Group Presents!
Three Sheets to the Wind: I Love The 80s New Years Prom
w/ Eagles Of Freedom (opening) & DJ BJ Spinnaker (late night)
The Broadberry
Richmond
,
VA
$35.00
Tickets At The Door
.
Three Sheets to the Wind
Named "Best Band" by STYLE Weekly seven years running (2011, 2012, 2013, 2014, 2015, 2016, and 2017), Three Sheets to the Wind is "America's #1 Tribute to Yacht Rock."
Three Sheets to the Wind pays authentic tribute to soft rock classics from the late '70s and '80s—undoubtedly the smoothest music ever created by mankind. It was an era of high gas prices and oil embargos that led America back to the simple joys of sailing, pina coladas, moustaches, and makin' love…sweet love.
The heartbeat of this sexy-tet belongs to short-shorted drummer Danny Marnier. Bass duties fall to steady shipmate Sonny Pockett. The saccharine saxophone sweetness is supplied by Goldman Sax, while manly keyboardist Walter Ego, guitarist Captain Max Power, and multi-instrumentalist Topper Dandy rock you softly with their sincere vocal delivery and sweeter-than-TaB™ harmonies.
When your soft rock needs a little extra kick, Three Sheets to the Wind will appear with world renowned, three-piece brass section, The Rounding Cape Horns. Book at your own risk and hide your daughters, though, because the combined talents of this noble nonet are smoother than Billy Dee Williams--and rest assured that it works…every time.
Venue Information:
Parking is available in side lot (by Exxon)

No Smoking/Vaping permitted anywhere inside venue

Bags/purses will be checked at the door.

Must have ID for entry

If you do not have access to a printer, we can scan ticket from your cell phone. Be sure to have your brightness turned all the way up at the door.

Children under 3 years old are Free.

Kitchen is open during all hours of operation.

Appropriate clothing required at all times (tops and bottoms covered).

Don't get ripped off! The only authorized seller of tickets for this event is Broadberry Entertainment Group. You can safely purchase tickets at the lowest available price on our website or at our box office, open Monday - Friday from 10am-4pm. Broadberry Entertainment Group is not responsible for tickets purchased in any other locations and will not honor, exchange, or refund counterfeit, duplicate or invalid tickets.

Venue Information:
The Broadberry
2729 W Broad St
Richmond, VA, 23220