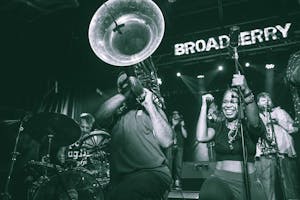 No BS! Brass' Annual Canned Food Drive
Eastern Standard Time
The Broadberry
Richmond
,
VA
$12.00 - $37.00
Tickets At The Door
.
No BS! Brass
No BS! Brass, based in Richmond, VA, takes the New Orleans brass band into uncharted territory; fearlessly combining elements of James Brown, John Coltrane, Michael Jackson, and Led Zeppelin into their fiercely original sound. Trained in the conservatory and hardened in the garage, No BS! Brass has performed at the Kennedy Center, Lincoln Center, the Festival of New Trumpet Music, Lockn festival, and on National Public Radio's Tiny Desk Concert. Equally at home in the club or on the parade route, in the concert hall or on a festival stage, No BS! Brass creates new believers wherever it goes.
"I like the No BS! Brass Band either way: kicking it with funk or clearing room for a screeching free-jazz solo. The point isn't to redefine what a brass band can do, but that's what No BS! achieves. From Virginia comes a storm of a brass ensemble that has decided it can do what it wants as long as it does it very, very well."
Jim Fusilli, NPR - All Things Considered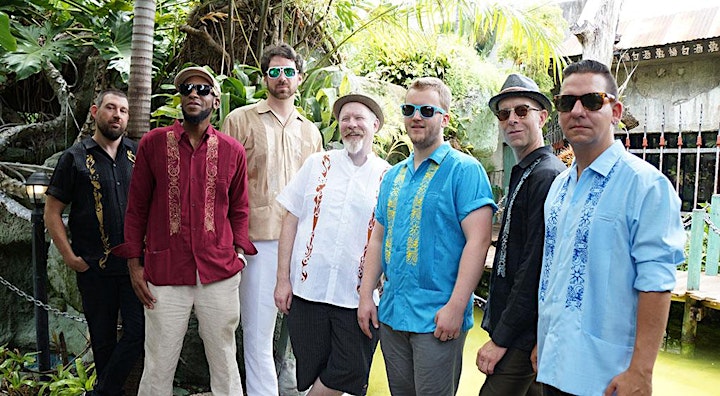 Eastern Standard Time
Put together top musicians from Washington, DC's Jazz and Reggae scenes, give them the recipe for the original Jamaican Ska, throw a dose of Soul in the mix, shake well, and the result is Eastern Standard Time. Initially a Be Bop influenced Ska-Jazz supergroup, Eastern Standard Time has matured over more than two decades, adding Rocksteady, Reggae, Latin, Dub, Soul, and even Spy Jazz into their repertoire to create a new sound that has been dubbed "Caribbean Beat." Eastern Standard Time is a world-class act, with dozens of tours of The United States, Canada, and Europe to their credit. They can also lay claim to being the first U.S. band of their genre to tour in Russia. Having performed with classic Jamaican artists such as Mr. Symarip, Charley Organaire and Derrick Morgan, EST has cut their teeth with the originators of the style, including releasing a live album backing Derrick Morgan that was recorded at the 2017 Supernova International Ska Festival. Their discography has brought them acclaim from as close as their own hometown--where they were dubbed "one of Washington's best bands" by the Washington Post-- to far flung areas of the globe such as Argentina, Russia, Indonesia and Venezuela; just a few of the places where Eastern Standard Time's songs receive regular radio airplay. Eastern Standard Time hit the studio in early 2018, producing a new album featuring all the styles they are known for and are planning several international tours to support its release. Eastern Standard Time has been featured on many International Music Festivals and TV specials and the band's music can be heard in movie soundtracks and on radio stations around the world. Eastern Standard Time's exciting live performances are guaranteed to get your feet moving. Their unforgettable style and impeccable musicianship bring pleasure to the ears of all listeners; proving that they can bring the house down, time and "Eastern Standard Time" again!
Venue Information:
Parking is available in side lot (by Exxon)

No Smoking/Vaping permitted anywhere inside venue

Bags/purses will be checked at the door.

Must have ID for entry

If you do not have access to a printer, we can scan ticket from your cell phone. Be sure to have your brightness turned all the way up at the door.

Children under 3 years old are Free.

Kitchen is open during all hours of operation.

Appropriate clothing required at all times (tops and bottoms covered).

For additional FAQs click here

Don't get ripped off! The only authorized seller of tickets for this event is Broadberry Entertainment Group. You can safely purchase tickets at the lowest available price on our website or at our box office, open Monday - Friday from 10am-4pm. Broadberry Entertainment Group is not responsible for tickets purchased in any other locations and will not honor, exchange, or refund counterfeit, duplicate or invalid tickets.

Venue Information:
The Broadberry
2729 W Broad St
Richmond, VA, 23220