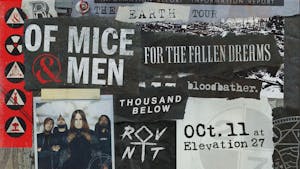 Broadberry Entertainment Group Presents
Of Mice & Men
For The Fallen Dreams, Thousand Below, Blood Bather, RVNT
Elevation 27
Virginia Beach
,
VA
$20.00 - $23.00
Sales Ended
On TicketWeb
.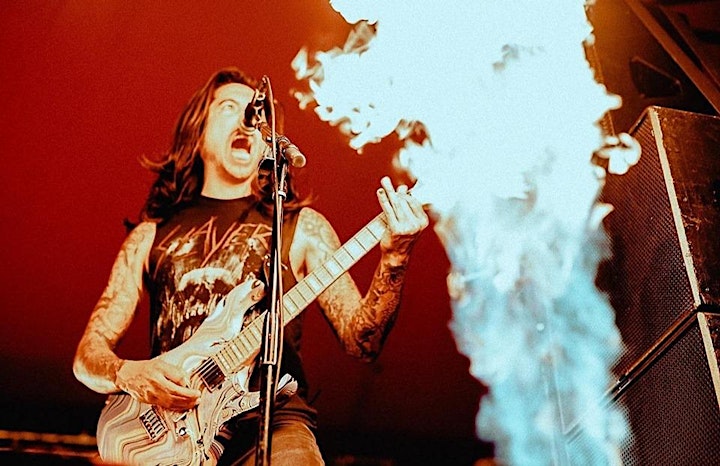 Of Mice & Men
They've hit No. 1 on Billboard's Rock and Independent Charts and No. 4 on the genre-spanning Top 200. They've racked up over 153 million Spotify streams, 20 million YouTube views and close to 5 million social media followers. They've shared stages with artists such as Metallica, Linkin Park and Queens of the Stone Age and not only held their own, but won over new fans in the process. They've played hundreds of shows for packed-house-crowds around the world, released three studio albums to critical acclaim, and recorded tracks that have blanketed rock radio airwaves. Their sound has broken through obstacles of language, distance and culture. For most bands, such achievements usually mark the summation of a long career– if they're lucky.
But Of Mice & Men have accomplished all that and more over the course of a mere five years. And while those feats make for one helluva resume, what makes this band really matter is that they've never stopped pushing themselves to go further. As a result they continue to reach dizzying new heights, the latest being Cold World, an album that raises the stakes of what a modern day heavy rock band is supposed to sound like.
The band's most bravely vulnerable album to date, Cold World marks the first time vocalist Austin Carlile has ever written candidly about his experience with Marfan syndrome, a rare connective tissue disorder can affect everything from the heart and blood vessels to bones and joints.
The condition demanded Carlile undergo three major surgeries in the past year—an ordeal he followed up by quitting all pain-relieving and mood-stabilizing medications in the midst of making the new album. "It was one of the most difficult things I've ever gone through in my life," Carlile says. "But when I came out the other side, I had such clarity and energy and spirit, it opened up a whole new world. It made the album mean that much more to me."
The Southern California-based quintet (Carlile, vocalist/bassist Aaron Pauley, guitarist Alan Ashby, drummer Valentino Arteaga and guitarist Phil Manansala) recorded Cold World with producer David Bendeth, who they worked with on 2014's Restoring Force, which hit No. 4 on the Billboard Top 200 Album Chart and No. 1 on both the Billboard Top Independent and Top Rock Albums Charts.
Working in Bendeth's studio, the band began recording while Carlile was still recovering from his recent surgeries—including reconstructive hip surgery, the removal of cartilage from his rib cage, and "having a dural sac in my brain repaired because fluid from my head was leaking into my spine." To their credit, the band held it together, not just surviving, but thriving in the studio as they channeled their emotions into a sound that cut through the darkness like a light on the road ahead.
"Writing the album, there were a lot of days when we'd jam for seven or eight cathartic hours," recalls Pauley. "There was a sense of getting back to what music felt like when we were kids and falling in love with that all over again."
On Cold World's first track "Pain"—whose beautifully twisted video instantly generated more than 2 million YouTube views upon posting—Of Mice & Men merge blistering riffs and barbed rhythms with the brutal reality of Carlile's condition. "People who have Marfan syndrome and similar disorders—it's a very painful beast for them," says the vocalist. Adding that "everyone you come in contact with is going through some type of pain," Carlile asserts that "Pain" is meant to encourage compassion and empathy. "The next time you feel yourself judging someone, remember that person could be going through something worse than you," he says of the song's message. "Instead of being hateful or projecting something negative, maybe you can think about doing something to help them."
Another intensely personal track, "Like a Ghost" finds Carlile and Pauley trading off vocals in a soulful exploration of desperation and redemption. "Whether it's because of addiction, depression or something else, there are a lot of people in this world today who don't know how to take love," says Pauley. "The song's about how important it is not to give up on those people, and to remind them that it's okay to feel loved." With its ethereal guitar tones and graceful melody, "Real" reflects on what Pauley refers to as "staying strong when people are trying to turn you into something you're not."
At the album's emotional core is "The Lie," which features an appearance by Cassy, a 14-year-old fan diagnosed with brain cancer. The band first connected with Cassy through the Living the Dream Foundation, and arranged for a visit upon hearing the news that her condition had worsened. They spent the day with Cassy and her family, then brought her to the studio for a preview of the new album (she was the first person outside of the band, producer and engineer to hear the record). They asked if they could record her handclaps and added them to "The Lie," an epic track that finds Carlile venting his frustrations about the medical system and "calling out the 1% for not taking care of the people they should be," he explains. "Now Cassy's name and the sound of her clapping hands are on the record," says Carlile. "It's something that captures that moment and that relationship forever. When we think about everything we went through to make this record, that's something that we'll never forget."
When it came time to select album art for Cold World, drummer Tino Arteaga came across the stunning black and white imagery of 68-year-old Italian photographer Roberto Kusterle and in particular, a stark, hypnotic image of stone-like bodies huddled together. Within days, the band was granted permission to use the photo. "I was studying the image and realized there was a third person in it, who you can barely see because the other two are sheltering him (or her)," says Pauley. "That's really what this record is all about—that we live in a cold world, but we can find warmth by sheltering each other."
The band shares an intense bond with their fans, which they chalk up to an insistence on bringing straight-from-the-gut honesty to each and every track. "There's a magic element to music that you can't ever gauge or quantify but that everyone can understand," says Pauley. "Even the most extreme music will bring people together." And with Carlile's "becoming so sober and getting to the point of feeling everything" during the production of Cold World, the band ended up creating their most uncompromising and ultimately most cathartic album yet.
"It's hard to feel these things, and it sucks waking up in pain every day, and it sucks when the only energy you have all day is to play a show," says Carlile. "But I prefer it that way. I'd rather feel the pain than feel nothing at all."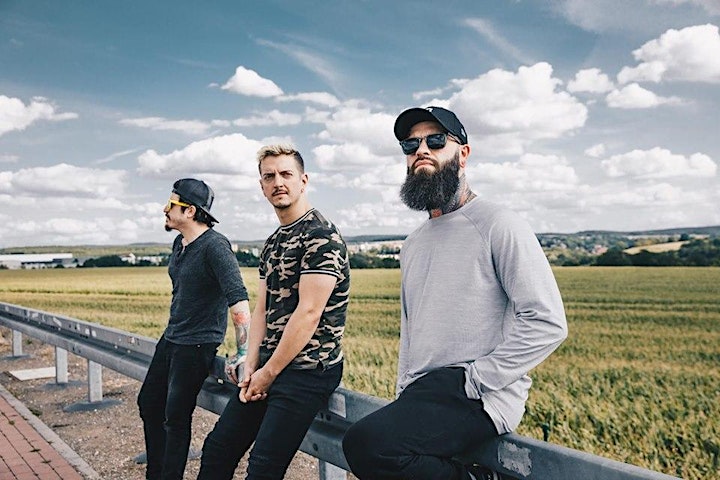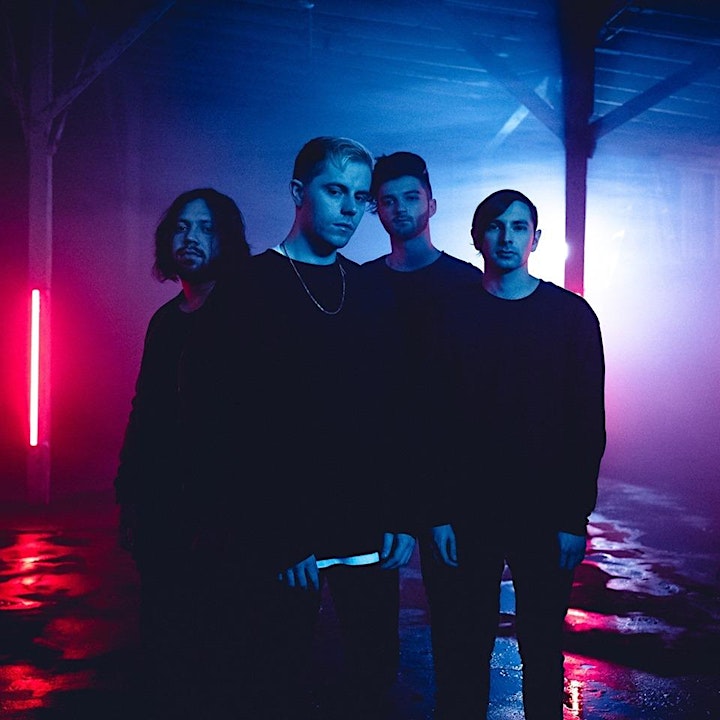 Thousand Below
Thousand Below walk a fine, almost illusory line. Deftly balancing atmospheric and airy instrumentation, thoughtful emotionality, and just the right amount of hard-hitting hypnosis, the Southern California quintet—James DeBerg [vocals], Devin Chance [guitar], Josh Thomas [guitar], Josh Billimoria [bass], and Garrett Halvax [drums]—descend into the dreamy depths of loss, love, and life reflected in art on their full-length debut, The Love You Let Too Close [Rise Records].
"We aim to make songs that are heavy and fun, but you can also listen to them on a nighttime drive home through the rain when you're thinking about life," exclaims DeBerg. "You could call it post-hardcore rock, but it's more than that. We just want people to feel what we're feeling."
They first harnessed that energy in early 2016. After amicably parting ways with Outlands, the frontman quietly kept writing music. One day, Thomas presented him some demos of "these pretty sad jams," and they dove headfirst into a collaboration together. Blindwish guitarist Chance joined the fold next followed by Billmoria and Halvax as the boys hit a San Diego studio to record. Rise Records became entranced by the initial output as well as the cinematic, self-funded video for "Tradition" and offered the band a deal. Handpicking the collaborative team, they finished recording with producer Sebastian Rizo, enlisting the mixing talents of Andreas Magnusson [Fit For A King] and Kris Crummett [Sleeping With Sirens, Issues] for mastering.
Over this rich sonic backdrop, DeBerg openly explores the suicide of his best friend and its aftermath on The Love You Let Too Close.
"The theme of my life's descent is central to the record," he admits. "Losing my best friend flipped my whole world upside down and changed who I am as a person. I used to be happy-go-lucky. I smiled through everything in life. It wasn't the same after. The songs go through my healthy and unhealthy coping mechanisms as well as the other feelings that came about during this really low and depressed period. I fell in love during a broken time, but I pushed back too. This is a chronicle of everything I noticed about myself."
On the first single "No Place Like You," solemn piano chords resound over a haze of feedback before guitars swell into a wave of emotion on the captivating chorus chant.
"We wanted to make that one a little bit lighter," says DeBerg. "It's mostly singing. Lyrically, it's about being so depressed that it screws up a relationship with someone you care for a lot."
Elsewhere on the record, the opener "Sinking Me" builds from a bombastic beat awash in lush guitar tones before snapping into a searing scream. Meanwhile, the title track encapsulates both extremes, shifting from delicate to deadly.
The Love You Let Too Close ignites Thousand Below's journey. As they tour with everyone from The Devil Wears Prada to Veil Of Maya, listeners will undoubtedly fall under their spell, because each lyric and note are unequivocally real.
"I enjoy writing sad music," DeBerg leaves off. "It's a very therapeutic process that helps me. I want people to take a close look at the concepts, listen to them, and read the lyrics. I imagine others have been through losing loved ones to suicide. This is an admission, 'It hurts. It feels dark. It's a rough time, but there's a light at the end of the tunnel.' I want to remind everyone they're not alone, and we do make it through."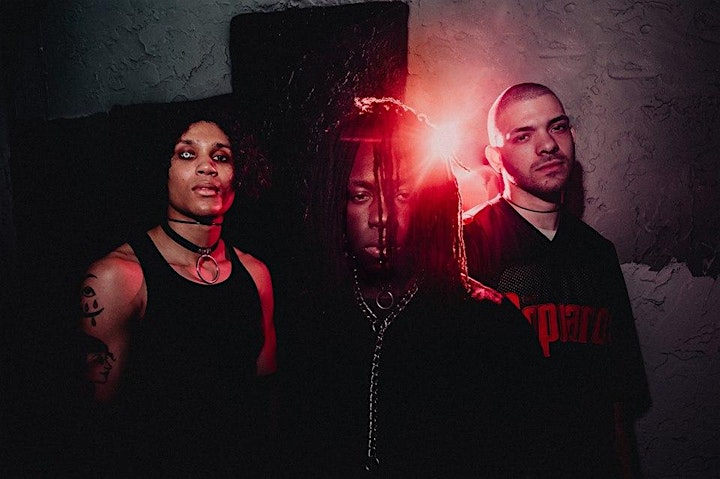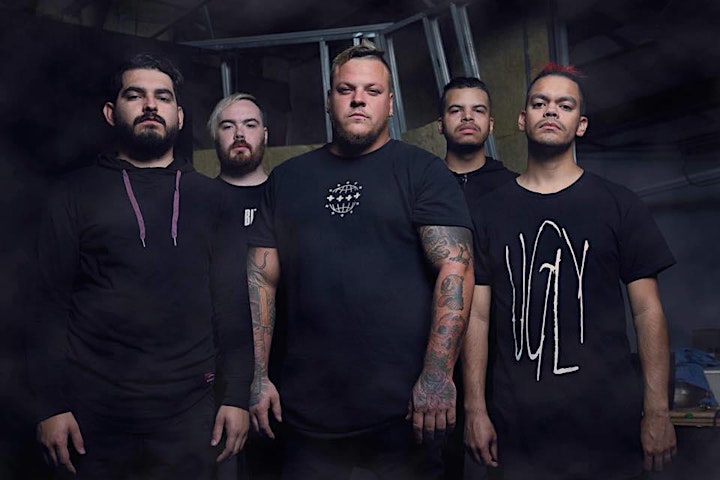 RVNT

Emerging out of the hot and humid Virginia heat in early spring of 2014, RVNT instantly captured the ears and eyes of many with their breakout music video for the single "Vain." With mere minutes of material released, the quintet's penchant for punishing aggression, powerful, catchy hooks and grisly, gnashing grooves earned them a dedicated following in days. Not only did the likes of "Vain" capture the attention of heavy music enthusiasts from around the world, it captured the attention of US-based record label We Are Triumphant—who signed the band and announced the release of their debut EP, Vulnerable, later that same year.

2015 proved to be even bigger and bolder than the year before, with the group releasing Vulnerable to the masses, proving they are anything but. Packed with punchy, pummeling moments of aggression that are divided by choruses and hooks catchier and more contagious than the common cold, RVNT's unique spin on post-hardcore infused metalcore was a critically acclaimed success. However, the band's effort in the studio wasn't the only place they truly shined; as the band's vigorous and vicious live performance earned them spots supporting acts like ten-ton-titans of heaviness The Alaskan, and once-label-mates Animal.

2016 saw RVNT becoming more introspective than ever, searching for a new and dynamic spin on their sound that would keep fans on their toes and the entire heavy music community guessing; and, as it happens, they found it. Within the first few weeks of 2017, RVNT made a dashing and devastating return with the music video for "Hollow," featuring Shawn Spann—a touching and powerful song with both boisterous brutality and marvelous catchiness to be had by the boatload. RVNT kept their renewed momentum rolling, announcing tours with New York metalcore act Somewhere to Call Home, former We Are Triumphant label-mates A Scent Like Wolves and Softspoken, as well as providing regional support for Sworn In and Backwordz. RVNT emerged from their quiescence with both fists swinging, bringing the un-expecting public to their knees, proving that as people, musicians and a dynamic collective, they simply refuse to sink into complacency.

In 2018 RVNT parted ways with We Are Triumphant, and again looked to how they could challenge both themselves as songwriters and their fanbase as listeners. "Bad Habits" their first post-label single was released in February of 2018 and includes the same heavy-hitting, grinding syncopation that RVNT is known for, while also expanding the band's sound to include even more dynamics of discordant melodies and refrains.

Moving forward into 2019, RVNT are working hard on new music and are ready to fully exemplify the power of being reborn.

Venue Information:
Elevation 27
600 Nevan Rd
Virginia Beach, VA