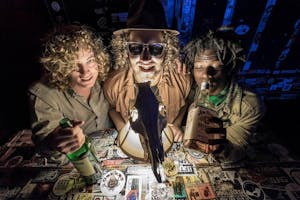 Broadberry Entertainment Group Presents!
PBR Says Goodbye to RVA w/ Bumpin Uglies and VILLAGES
The Broadberry
Richmond
,
VA
.
People's Blues of Richmond
People's Blues of Richmond (or PBR as they are affectionately referred to by their fans) is one of those rare three-pieces that somehow conjures the sonic power and visual intensity of a thunderstorm. Think Jimi Hendrix Experience meets MC5. They take psychedelic blues rock to a different level with a lyrical element seldom found in the genre. Think Bob Dylan writing lyrics for Black Sabbath songs. It's hard to imagine until it's right in your face. Then it's hard to forget.
Their 2016 12-song release "Quit or Die" showcased a travel-hardened band at a crossroads. With drugs taking their inevitable toll on three young men on an endless search for a good time, this trio had a choice to make and "Quit or Die" is a declaration of their purpose as artists above all else. They received praise from Relix, Paste, Guitar World, AfroPunk, and many others as 3/4 of the album was released as critically acclaimed singles and the tour schedule filled up quickly.
In the two years since, they've found themselves opening for Gregg Allman, ZZ Top, Nathaniel Rateliff & The Night Sweats, The Revivalists, and Papadosio and playing venues like Red Rocks, 3 sets at Electric Forest, 2 appearances at Lockn, The Brooklyn Bowl, The National, and The Norva.
Before "Quit or Die", PBR had a cult following built around their album "Good Time Suicide". It was a big, dark, manic sounding album full of in-your-face riffs and gut-wrenching song writing. It was followed shortly thereafter by the trio heading to Valdosta, GA to meet and record with Mark Neill (who recorded one of their favorite albums, 'Brothers' by The Black Keys). They did two songs with Mark and learned a lot about recording that they put to use when they returned home to Richmond to record 'Quit or Die'.
They are currently working on their next album release and touring constantly so keep an eye and an ear out for when the storm rolls through and don't miss the wildest show on wheels when it comes to your town!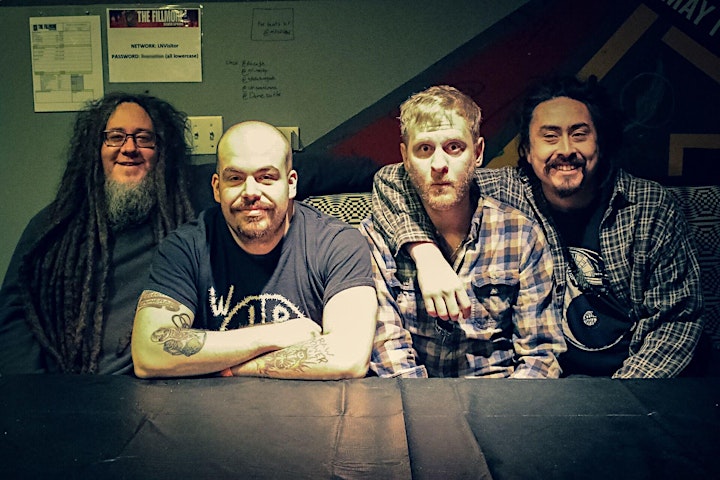 Bumpin Uglies
Bumpin Uglies spawned from an Annapolis, MD scene awash in musical history over a decade ago. They are rooted in East Coast ska, punk, and reggae, making their mark up and down the Eastern Seaboard. In the past ten years, Bumpin Uglies have worked to carve out their path by relentlessly touring, and releasing one album after another. With each release came more focus, more creativity and more desire to always experiment and try new things with their music. The band is psyched for their latest EP, Buzz, which released on March 22 via Ineffable Music Group based in Oakland, CA. Ineffable is a name synonymous with the likes of Collie Buddz, Stick Figure, The Movement, and many other prominent artists.
Their last album, Beast From The East, is proof positive that Brandon, Wolfie, Chad and T.J. have meshed into a dynamic quartet as the album topped reggae charts, drawing interest from Billboard's editorial team for their debut in the pole position. With fellow Maryland rocker Howi Spangler of Ballyhoo! working on the production, the alchemy was right for their breakthrough release, so naturally they are keeping that intact with their current album, Buzz, while continuing the trend of evolving their sound, always experimenting in bold ways that keeps everything fresh from beginning to end.
Their climb hasn't always been easy and as Bumpin Uglies have grinded their way to their current place in the music scene, they've shown that hard work pays off and by putting your heart and soul into it and by taking risks, you can achieve great things. It's why they've springboarded from The Whiskey in Annapolis (RIP) to slots at major festivals like Firefly, Peachfest, and Reggae Rise Up, and are selling out several markets around the nation. Bumpin Uglies are also proud to have announced their own Headlining Festival, Weekend at Wolfie's, set for June 13-15, 2019 in Bedford, PA.
As a band they are clearly intent on doing things their own way, it's how it's always been done. This philosophy has grown Bumpin Uglies into a prolific music-making beast, has devoted fans tattooing Brandon Hardesty's poignant lyrics on their bodies and has them growing into a nationally recognized touring headliner. Bumpin Uglies is on fire with no end in site.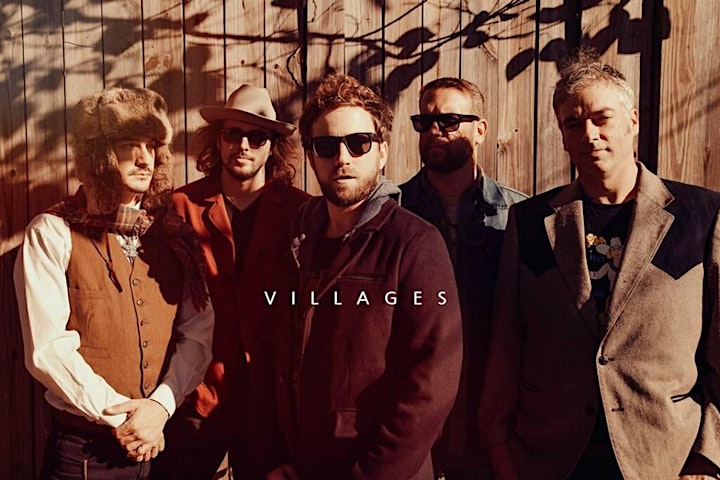 VILLAGES

VILLAGES is what happens when a lifelong piano player has a midlife musical crisis, teaches himself guitar, writes 70+ songs in a little over a year, and then gets his super talented friends to make them sound cool.

"It's kind of an experiment that has gotten out of hand," says Justin Paciocco. "At first, I was looking for a new hobby and wondered if I could teach myself guitar. I figured it'd be something I'd play around with for a few weeks and then lose interest and move on to something else. Fast forward a year, and it's crazy to think I'm now fronting a new band, playing live shows, recording an album. This whole thing has been unexpected, but it's been a blast too."

The band -- known as VILLAGES -- includes a revolving collaboration of some of RVA's most plugged-in musicians: Stephen Lecky (Farm Vegas), Zach Hudgins (Jackass Flats), Corey Wells (Shack Band), James Lloyd Hodges (Avers), and Stephen Kuester (Jackass Flats). Their folky, countrified debut EP was recorded with the help of Zach Fichter and Jeremy Simmons, and is slated to be released later this summer.

Venue Information:

Parking is available in side lot (by Exxon)

No Smoking/Vaping permitted anywhere inside venue

Bags/purses will be checked at the door.

Must have ID for entry

If you do not have access to a printer, we can scan ticket from your cell phone. Be sure to have your brightness turned all the way up at the door.

Children under 3 years old are Free.

Kitchen is open during all hours of operation.

Appropriate clothing required at all times (tops and bottoms covered).

For additional FAQs click here

Don't get ripped off! The only authorized seller of tickets for this event is Broadberry Entertainment Group. You can safely purchase tickets at the lowest available price on our website or at our box office, open Monday - Friday from 10am-4pm. Broadberry Entertainment Group is not responsible for tickets purchased in any other locations and will not honor, exchange, or refund counterfeit, duplicate or invalid tickets.

Venue Information:
The Broadberry
2729 W Broad St
Richmond, VA, 23220