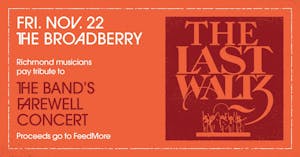 .
For the 3rd year in a row, The Last Waltz is coming to Richmond, Virginia! The stage is going to be filled to brim with talent, some familiar faces and some new. The house band includes Tommy Booker, Andrew Sisk, John Bradberry (all of Jackass Flats), Scott Lane, and Chris Speasmaker (both of The Congress). There will be over 17 special guest appearances, some of whom are Jared Pool (Larry Keel Experience), Erin Lunsford (Erin and The Wildfire), Adrian Ciucci (Southern Belles), and Jonathon Meadows (The Congress)!
Richmond's Last Waltz is a charity event that takes place right around the holidays, so it's only obvious that proceeds from the event will go to FEEDmore, local Richmond charity that provides meals to those who need it most! Donations are welcome, and if you or your local business wants to contribute anything at all please reach out to Marley Wilson so we thank and shine a light on you. Anything helps!
Come see some of our city's most talented musicians breathe life and love into one of music's most beloved concert films on November 22nd at The Broadberry!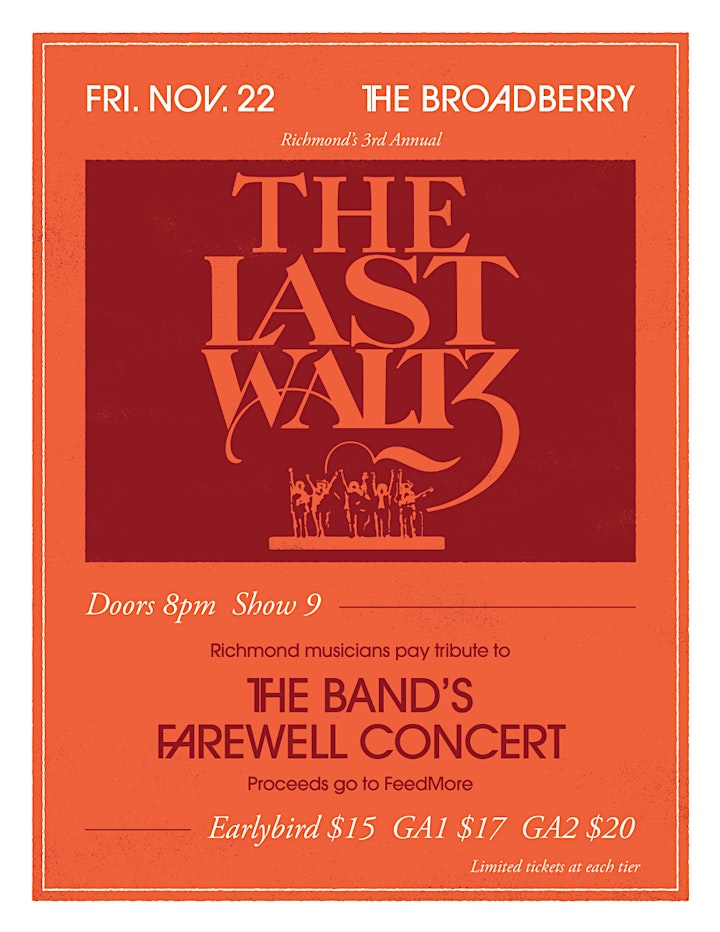 Venue Information:
Parking is available in side lot (by Exxon)

No Smoking/Vaping permitted anywhere inside venue

Bags/purses will be checked at the door.

Must have ID for entry

If you do not have access to a printer, we can scan ticket from your cell phone. Be sure to have your brightness turned all the way up at the door.

Children under 3 years old are Free.

Kitchen is open during all hours of operation.

Appropriate clothing required at all times (tops and bottoms covered).

Venue Information:
The Broadberry
2729 W Broad St
Richmond, VA, 23220